The Spaniard is making headlines for all the wrong reasons. Again. But it's what we love about him, right?
Sergio Garcia tantrums are like London buses – they appear all the time, often two at once. (That's the saying, isn't it?)
Even for the fiery Spaniard who we all hate to love, it's been a while.
But Garcia was back true to form at the 2022 Wells Fargo Championship with a spectacular display of petulance when he got on the wrong side of a rules official while looking for a wayward ball.
Here's the clip in full…
If you didn't quite catch it, he said he "can't wait to leave this tour" and "just a couple more weeks until I don't have to deal with you any more".
You know, Sergio, there are easier, less passive aggressive ways of telling us you're among those defecting to the Saudi-backed LIV Golf Invitational.
The PGA Tour later issued a statement saying there had a been an "inadvertent error" by the official – which our Rules of Golf expert Steve Carroll has explained here – which goes some way to explaining Garcia's frustration, but the former Masters champion refused to speak to the press following his round.
This one isn't over just yet.
In the meantime, because we all love a Sergio wobbly, let's remind ourselves of the times he's found himself on the wrong side of his temper.
Shall we do it in chronological order?
Sergio Garcia tantrums: Who needs shoes?
This is my favourite, so it's almost a shame to be starting with it. During the World Match Play, Garcia hit a shot he didn't like and, after briefly considering a more traditional club throw, he took his shoe off and threw it into the crowd.
You know, just like we'd all do.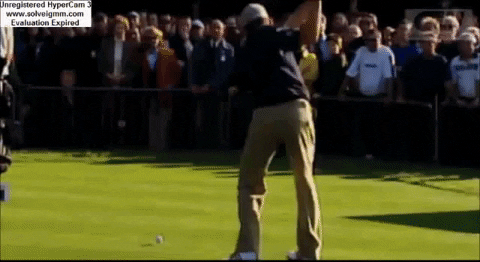 Sergio Garcia tantrums: Watering hole
On the 13th hole during the 2007 CA Championship, Garcia missed a six-footer then, having tapped in and removed his ball, decided to replace it with saliva.
As you do.
Sergio Garcia tantrums: Bunker mentality
Serg has got previous with bunkers too. He got very angry at this sand.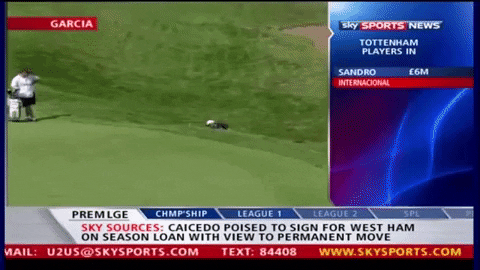 Sergio Garcia tantrums: Thai fly
During the first round at the Thailand Golf Championship in 2011, two years before he won there, Garcia stuck a ball in the water at the par-3 8th. He didn't much like his reloaded shot, either…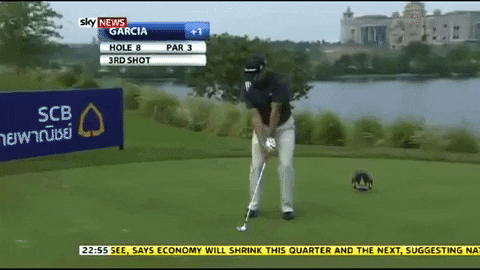 Sergio Garcia tantrums: Mic drop
At the 2012 US Open, Garcia decided that one of ESPN's microphones was going to take the brunt of his anger at Olympic Club's 3rd hole. You can see it here – but hurry back, there is plenty more to get through.
Sergio Garcia tantrums: Bushwhacker
Garcia also hates bushes. He particularly hates the bush at Royal Birkdale's par-3 4th, as he proved during the 2017 Open.
Former NCG scribe Mark Townsend, who witnessed the whole sorry affair, wrote at the time:
"[Garcia] then spent the next few holes in obvious pain, had to receive some on-course treatment and there was the possibility of maybe withdrawing."
He didn't withdraw. He also didn't win The Open.
Sergio Garcia tantrums: Texas hold up
Another tournament, another club toss, another bush.
Hovering around the cut line during the second round of the Valero Texas Open, Garcia did not much like his drive at the drivable par-4 5th hole. So he linged his big stick in the thick stuff.
This one is particularly hilarious-slash-painful to watch due to Garcia having to go through the rather embarrassing rigmarole of fetching his previously airborne club.
Oh it gets worse. He shanked his second shot across the green before eventually getting down for bogey. He missed the cut.
Sergio Garcia tantrums: Saudi storm
There was some more sandy swashbuckling in a bunker at the 2019 Saudi International.
Barely 24 hours after that sandy swashbuckling Garcia was disqualified for deliberately damaging five – FIVE – greens. He issued an apology soon after.
"I've obviously had some time to reflect, and want to again say I'm sorry to my fans and fellow competitors. What happened is not an example I want to set, and it's not who I truly am. I am an emotional player and while I believe that's one of my biggest strengths, it's also one of my biggest flaws. I'm focused on working hard to channel that emotion the correct way and to be the best me, learn from it and move forward. Thanks for all the support."
If you don't want to read all of that, here's the highlight:
"What happened is not an example I want to set, and it's not who I truly am."
Once again for those at the back:
"What happened is not an example I want to set, and it's not who I truly am."
And now with just the huge final take isolated for effect:
"It's not who I truly am."
Did he learn? Let's find out.
Sergio Garcia tantrums: Caddie flack
Of course he didn't!
Unfortunately the video of this incident on the 5th hole at Royal Portrush during the 2019 Open no longer exists. As Garcia walked off the tee, he not-so casually tossed his driver over his shoulder which hit his caddie pretty hard, drawing an audible gasp from the gallery.
I'd say he was lucky not be wearing that driver for the remainder of the round.
Sergio Garcia tantrums: Tee crime
A week later at the WGC-FedEx St Jude Invitational in Memphis, he was again having driver problems.
So just to recap, that's three club throws, one launched shoe, a damaged tee box, two bunkers decimated, one bush attacked, one microphone destroyed, and one hole full of spit. And an angry caddie.
But remember folks:
It's not who I truly am.
Subscribe to NCG
[post_list category=39894 title=""]
We dive deep into the golf ball roll back plans!
We dive deep into the golf ball roll back plans!